About the Store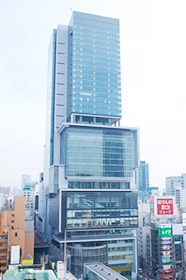 ShinQs is a collection of around 200 shops that opened in 2012 across the eight floors of Shibuya Hikarie, from the basement 3rd floor to the 5th floor, with the focusing theme of Japan-original and Shibuya-original. The store's facilities such as the Switch Rooms that completely reinvented the concept of restrooms, and even its overall environment such as playing different music in each floors are all carefully planned out so that our visiting customers can enjoy shopping in the upmost relaxation possible.
What we offer in the food, beauty and the fashion zones are entirely new lifestyles and they are updated with each passing day. ShinQs is one of the hottest shopping locations in Japan, attracting many customers every day, especially women who like to come and enjoy an entirely new Shibuya that they've never seen before.
Access
We are connected directly in JR Line, Keio Inokashira Line "Shibuya Station" and 2F Connecting Walkway
We are connected directly at Tokyo Metro Ginza Line "Shibuya Station" and 1F
Tokyu Toyoko Line, Denentoshi Line, Tokyo Metro Hanzomon Line, Fukutoshin Line "Shibuya Station" Exit B5 and direct connection
▶ Click here for a detailed map
▶ Welcome to SHIBUYA Shopping Guide [PDF]
Floor Service Information
Tax Refund Service
◆1◆We offer tax refund services to customers with receipts with "ShinQs" printed on them that meet the following requirements at the Tax Refund Counter at basement 1st floor. We ask for the customer who has made the actual purchase to come to the counter at the day of the purchase during the counter's business hours. Please make sure to bring your passport.
[Requirements for Tax Refund]
Those who have spent less than six months since entering Japan, such as foreign tourists.
[Refund Standards]
<< General Goods >>
・Clothing, bag, shoes, jewelry, tableware, craftwork
・5,000 yen or more <excluding tax>
・Make sure to take the items outside Japan after purchase.
<< Consumables >>
・Cosmetics, food, alcoholic beverages, drinks, nutritional supplements
・5,000 yen or more, 500,000 yen or less <excluding tax>
・Make sure to take the items outside Japan within 30 days after purchase (special packing is required).
Note: You may also be eligible for tax refunds when the total amount of general goods and consumables are 5,000 yen or more and 500,000 yen or less (excluding tax, respectably). Make sure to take the items outside of Japan within 30 days after purchase (special packing is required).
◆2◆Tax refund service for receipts that do not have "ShinQs" printed on them are done at each of the shops.
▶ Click here for tax refund procedure guide.
Tax-Free Guide [PDF]
Information Counter [B3, 2F]
Time in
[B3] 11:00-20:00
[2F] 11:00-21:00
Including consultation of floor guidance, shopping, meal please drop in casually.
We do help to have you spend comfortable time in Shibuya Hikarie ShinQs.
Usable Credit Cards
Various credit cards including VISA, MASTERCARD, AMEX, and JCB can be used.
Union Pay Card
We have devices that can process Union Pay card payments ready at each floor.
Switch Rooms/Baby Rooms [B3, B2, B1, 3F, 4F, 5F]
At ShinQs, we offer multipurpose restrooms called Switch Rooms.
Each room at different floors is designed in different concepts, offering a relaxing atmosphere like never experienced, with its dim illumination, 3D surround music and aromatic scent.
These restrooms, with their different atmospheres and functionalities, are designed for you to be able to switch your mood from tired to refreshed.
Baby Rooms "Switch Living" [B2]
This is a resting room where mothers and their babies can both enjoy a relaxing time together. There are kid's restrooms, and also a small powdering space in the breastfeeding rooms.
Wheelchair & Stroller Rental Service (free) [B3, 2F information]
Rental time
[B3] 11:00-20:00
[2F] 11:00-21:00
To inconvenient customer of body, customer with small child, we loan free.
Coin Locker [B3, 2F]/Cold Storage Locker [B3]
[B3] 11:00-20:00
[2F] 7:00-24:00
We install Coin Locker corresponding to Felica which we can unlock at the time of blackout and add cold storage locker which is available in the case of shopping such as food to B3.
※When it is past 24:00, additional charge for 1st will incur.
ATM [B3, B2]
[B3] Mizuho Bank/11:00-20:00
[B2] Seven Bank/11:00-20:00
It is ginren card and others, convenient ATM corresponding to various international card.
Smoking Rooms [7F・8F・9F・11F]
Smoking is prohibited in the building except for designated smoking rooms.Please use the smoking rooms in 7th, 8th, 9th and 11th floors when smoking.
Tourist Information
At the Tourist Information in Tokyu Tokyo Metro Shibuya Station (Shibuya Station basement 2nd floor connecting walkway), we offer various information of Shibuya, and offer helps and solutions to tourists in need.
Overseas Delivery
We offer delivery service to foreign countries of purchase products (for a fee).